LGBTIQ+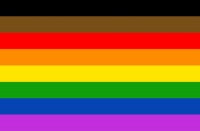 At SACL, we recognize that people from LGBTIQ communities can face significant levels of violence and abuse of both a physical and sexual nature. This is especially true of transgender people who experience the highest rates of sexual assault in our community. It is our belief that rigid social norms about gender and sexuality feed in to and sustain sexual violence.
We know that LGBTIQ people can face additional barriers to disclosing sexual assault and seeking support, such as: feeling unsure if a service is inclusive and equipped to meet their needs; concern that they will not be taken seriously by police, healthcare and other staff; fear they will experience a homophobic, biphobic or transphobic response; worry about privacy breaches; being "outed" to friends and family and fear of being alienated within the LGBTIQ community.
SACL has commenced a journey to make our service more responsive to the needs of LGBTIQ victim survivors of sexual assault. We are a service that respects human rights and where lesbian, gay, bisexual, transgender, intersex and queer people, their family, friends and allies are valued, welcomed and supported. We won't always get it right and would really like to hear from you if your experience of our service does not meet your expectations of an inclusive service, as we are committed to improvement.
If you would like to speak with one of the coordinators about how we can make the service more inclusive or provide any feedback, you can contact the SACL Coordinators on 8345 3021 or email saclfeedback@thewomens.org.au